On the website Quartz, writer Alexander Aciman asks why tech companies don't do more to silence the alt-right and Nazi menace. He brings up the Daily Stormer, Richard Spencer and others, and then jumps to this conclusion, tripping over his own logic in the process.
The glaring loophole in the argument that freedom of speech should allow users such as these to keep posting is a failure to recognize that any public affiliation, however soft, with Nazis or the Klan is a threat on its own. These are not social or cultural clubhouses; they are not political affiliations worthy of respect. The truth remains that supporting these groups is a statement in no uncertain terms that certain people deserve to die. And this message must be silenced.
It is only slightly better that technology companies have the right to shut down speech, as opposed to say, the government. There might not be much difference at all some day. It is true that WordPress could shut down this free web site, if I jump feet first into Nazi propaganda…which is pretty unlikely of course.
Hate those guys. Do I make that clear? I don't support any white supremacy, racist, Nazi or KKK groups. My God demands that I treat all people the same and my conscience does, too.  I don't like hate speech from anyone, but I'll tolerate it within the obvious legal restriction (incitement of violence, libel) because freedom of speech, assembly and religion are important.
When you go about saying that words must be silenced, you'd better have a really good reason. I would hazard that more people have been injured, and more property vandalized in anti-Milo, Black Lives Matters and anti-Trump protests than in any white supremacist or Nazi protests — since those last groups are not actually great in number.
The real violence in the streets has come from leftist protests, and if you swing a lock in a sock or throw rocks at someone, or bring a club to a protest — apparently you're comfortable causing major injury or death.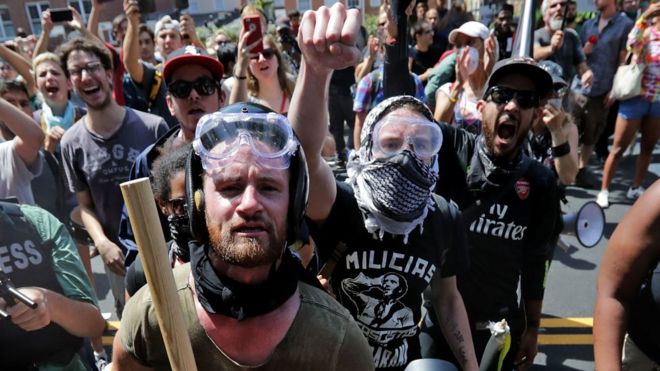 As far as Facebook, Twitter and the lot "policing speech," it won't work. It's like trying to keep dirty pictures away from teenage boys. Where there is a motivated audience, the market will respond. 
Alexander Aciman and his ilk want the technology companies to take on the role of mommies and daddies, keeping bad things from our eyes.  I just shake my head at the misguided arrogance.