The year end report of a group called Index on Censorship was just published, and being a journalist can get you beaten up, harassed by mobs and even killed.  Here's the picture The Guardian used at the top of the story: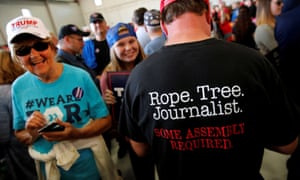 The caption: A Donald Trump supporter at a rally in Minneapolis, Minnesota, makes his feelings about journalists known. Photograph: Jonathan Ernst/Reuters
It's been common to add Trump to any story you can, so I read the report:
During the third quarter of 2016, four journalists were killed; 54 incidents of physical assault were reported; 107 media professionals were arrested; 150 were detained and released; 112 reports of intimidation, which includes psychological abuse, sexual harassment, trolling/cyberbullying and defamation, were made; journalistic work was censored or altered 29 times; and media professionals were blocked from covering a story in 89 cases.
Sounds pretty bad.
None of the examples in the report were from the United States, or even the UK, where the Guardian is published.  Searching in the report for the word Trump, I got two instances of the word "trumped up." 
So, why is Trump in the story at all?
With a marked increase in attacks in Europe, long considered a bastion of press freedom, the latest research does not reflect increased violence in Asia or the US, which has seen an increase in assaults and abuse during a highly charged US election during which reporters were put in pens by President-elect Donald Trump.
The cage accusation involves the press areas in the rallies during the campaign.  I don't remember the reporters being injured or killed.  Forgive me if I've missed some stories.
I do know there were people hurt in anti-Trump riots, but that's because they were attacked by thugs. Or as the Guardian says, there was a "…a marked increase in assaults." 
So why is a Trump t-shirt a prominent feature of a story about people being killed in Turkey, Ukraine and Russia?  
Why do they lie?  Because they can.