Heartland
My wife has discovered a great Canadian TV show called Heartland.  It has been on Canadian TV forever, and has become the longest running show there.  No cursing.  Very little sex, although you can tell they want to. Great scenery and horses.  The Rockys in Alberta are stunning.  Family friendly.  Sort of like the Waltons, but fewer money troubles.  
In the first two seasons, one main character wears a really bad looking fake mustache. Not the blonde near the horse.  She's cool.  Insecure but cool.  My family watches it, and I holler out "houwse!" or "a-boot" everytime somebody sounds particularly Canadian. 
Reign
Apparently Netfix has made a deal with The CW to air all of the scripted shows.  This One of the programs is a period piece called Reign.  It's theoretically about Mary, Queen of Scots in her early years in France.  Everybody in France speaks English with a British accent, including people from Scotland and Spain.
There are some shows that capture the imagination through terrific acting, writing and drama.  This is not one of them.  It does for Bloody Mary what the movie Abraham Lincoln, Vampire Hunter did for the 16th president.
Wallander
If you like police dramas with lots of think time, this is the one.  Kurt Wallander is a Swedish detective, but as is the case in Sweden, everybody speaks English. To each other. Actually, Wallander traveled to Latvia on a case, and apparently that's the custom there, also.  (This was produced for the English audience, but it bugs me a bit.)
Kenneth Branagh plays a brooding, brilliant yet troubled detective.  Actually now that I think of it, he's not all that brilliant, though he does solve the crimes.  A brilliant detective might say "Oh, I've just had a crappy day.  Better get some sleep and try again tomorrow."  Not this guy. Wallander sleeps in his chair, with a bottle of wine in his hand. Oddly, he always needs a shave.  Never has he actually shaved, but he always has a day or two of stubble. 
This show, like Hinterland has such a great and different feel compared to American cop shows. Wallander shoots a guy in self-defense in one episode and then spends months dealing with the grief.  I mean, he was so broken up he didn't shave or eat.  Just like always.
The landscape is bleak, fields broken up with industrial towns and harbors.  The ocean is nice, but the whole look is beak.  Grey. One character gets a travel book with pictures of Sweden.  His wife looks at it and asked if it is really like that.  Wallander says, "Yeah. Midsummer. Sure."  Like Hinterland, there was some tax money kicked in for the production, in this case I'm sure they wondered if Swedish tourism might be helped by the program.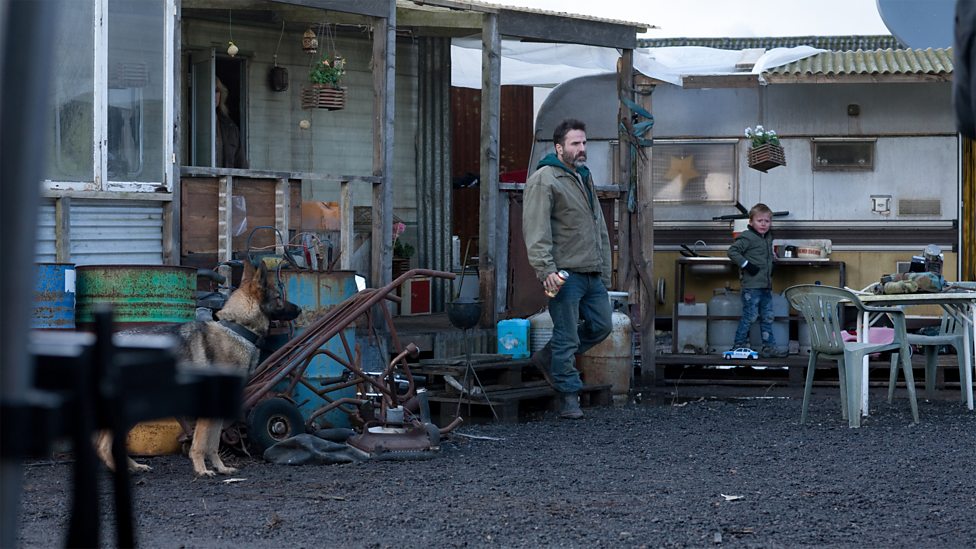 Photo Courtesy The BBC, and the Swedish Tourism Office
This is why I like it.  The pacing is so non-American, the characters are so flawed, and the scenery is so normal.  The detectives are really not necessarily good at cracking cases, or at life for that matter. If you're sick of the same stuff, Wallander is a terrific break.
So, what are you watching?