A wave of liberal readers came The Craft Blog today. Some commented here, and some others I'm told went to another blog to mock my article "I Want to Be a Liberal."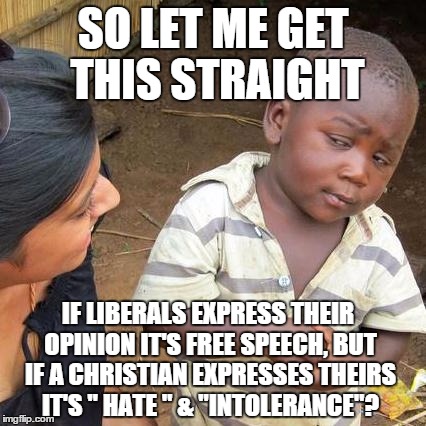 Some very few of them actually commented here. You know, to the actual person who wrote the article.
I know that somewhere, somebody is bragging about their epic takedown of that hate-mongering rethuglican! A reminder: Epic is big, huge and exciting. Typing on a keyboard at a website is hardly ever epic.
About that essay: It's an exaggeration of the worst of the liberal mindset. But after writing about these issues for a while, I didn't need much time to write it. Each statement really does link to a genuine event. I almost made an annotated version.
A reader here tried to write an "I want to be a Republican" response, but fell short because there are so many misunderstandings:
I want to be able to decide what kind of religious devotion is appropriate. Baptists are good. Muslims, Hindus, and hippie Unitarians. Not good. If your religious beliefs say you need to wear a head scarf, you can't put it on.
I know lots of Republicans and conservatives but I don't know people who argue that. My examples were ripped from the headlines. There are anti-head-scarf debates in France, but I don't remember hearing that as a Republican ideal. In general, conservatives and Republicans want everyone to worship as they wish, and long as blowing stuff up and cutting off heads is not involved. Do we need to debate that?

Am I going to visit the website in which my ideas are being trashed? Probably not. Folks are welcome here, regardless of political and cultural affiliation. If one of the thousands of visitors wants to stick around and comment, that's good. I don't know why I'd care if there are lots and lots of people misinterpreting, getting mad, or mocking what I write.  I'm curious, but not so much that I'll give it much attention.
Even if they're sure their takedown was epic!
_________________________________________________________
This morning's post:
I have no idea why, but something I wrote a while back has suddenly started getting some attention.  "I Want to Be a Liberal" started out this way:
I want to be a liberal.

I want to believe that by raising the minimum wage, I can put more money in people's pockets. I don't need to chase down the actual source of that 'more money.'

I want to be able to fire the college dean or university president if he says a bigoted thing. Or fails to condemn with vigor something which someone else said which is clearly bigoted. What's bigoted? It changes, but I'll let you know after I hear what you have to say.

I want to be able to decide which level of cultural appropriation is appropriate. Tacos are good. Tacos with hats. Not good. If it's your birthday and they bring a sombrero to your table while singing a song about your birthday, you can't put it on. You can't appropriate culture, language or mannerisms from the downtrodden cultures. Even though those cultures are superior to the slave-owning European-American Anglo culture, comprende?
Apparently it has been located by some liberals, and thousands of people read it today. A few commented, noting that it contains "straw man" or "red herring" arguments.
I would like to thank those who've read it, and even those who disagree.  Especially those who disagree, and yet still read it and ponder.
In the spirit of the original piece, I should say that "It's how I still feel, and it's not fair if you devalue my personhood by using 'hate speech.'"